The humble T-Card. A mainstay of the motor industry, and part of the reason they still exist in our increasingly digital world is that they are an extremely effective visual method of managing processes in busy departments. Being able to see your whole business in one place has helped workshop controllers and managers alike for many, many years and is a tried and tested solution still being used everyday by independent garages large and small across the world.
The traditional method of job management and workflow through motor garages is through a workshop T-card board. It's not uncommon to see a board hanging in both Sales and Aftersales departments of car dealerships: the Sales board tracking customer car purchases, from order to delivery, and the service board showing the progress of a car's service or repair in a workshop – from the car arriving at the garage, to the customer driving off with their repaired vehicle.
With any technological advance, it's important to learn from current ways of working and best practices. So rather than re-inventing the wheel, we've simply brought the wheel up to date, and created an electronic T-Card board. The CarVue board is always online, always accessible, and can be used on any device.
What does it look like and where can I find it?
Users logging on to the app will now find a T card board viewing option available, to complement the job list and diary views.
Heading into the T Card view, here's what you will find…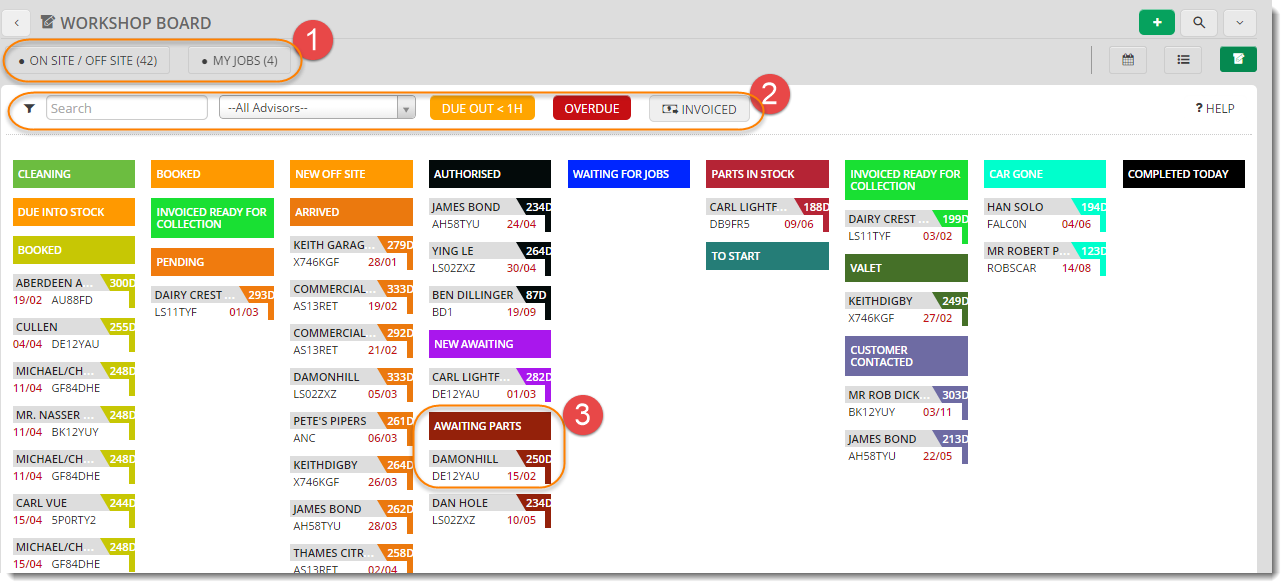 Click the on site/off site button to remove any unconfirmed or awaiting arrival jobs, and click my jobs to see only the jobs you've been assigned
Use the filters to instantly change the look of the board…You can do a word search across advisor, vehicle or customer, as well as filter a specific advisor's jobs, any jobs due out in under 1 hour, overdue and invoiced jobs.
Under the different colour headings (you can change these in Settings), you'll see a job card summary for all jobs with that status in your workshop. Simply click anywhere on the T card to load the job!
In addition to this new way of viewing your workshop, we can go one better… The board is customisable, so you can move job statuses up or down columns, or even between columns, meaning you can tailor the board completely to your needs.
As you can probably tell, we're really excited and pleased to announce this great new feature. We love the simplicity and control that a T-Card view can bring to a workshop, so this is yet another reason you should take a look at CarVue today!